Belgian [Shepherd] Tervuren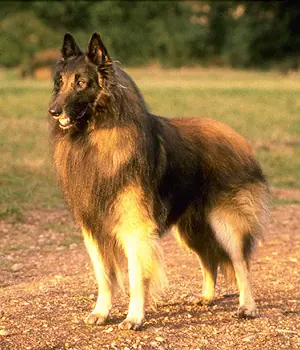 Breed Group

: HERDING

Origin

: Belgium

Average Height

: 22" - 26"

Average Weight

: 40 - 65 lbs.

Life Span

: 12 - 14 years
Photo Courtesy of : Belgian Tervuren Rescue
Belgian [Shepherd] Tervuren Rescue Organizations
Size

Energy

Intelligence

Ease of Training

Hypo-Allergenic

Shedding

Good with Kids

Good with Other Pets

Guard Dog
The Belgian Tervuren was named for the Belgium village of Tervuren.
This is the breed known in France and Belgium as the "Chien de Berger Belge".

This breed is a stunningly handsome version of the Black Belgian Sheepdog, different only in color.

Before the 1800's, when dog shows became popular and tended to direct attention to a dog's appearance, European shepherds were not concerned with conformation. They were looking for dependability and durability, and they had that in their "Chiens de Berger" no matter what they looked like.

However, by the 1800s fencing and corralling were commonplace and the wolves were gone. It was time to start dressing up the working breeds in dependable finery. the Belgian tervuren, like his very close cousins, the Belgian Malinois and the Belgian Sheepdog, is an elegant-looking dog with a lively and graceful way of moving. Their whole attitude is one of willingness, eager to work, to please to be part of his 'pack'.

The Tervuren is one of the four varieties of the Belgian sheepdogs including his cousins the Belgian Groenendael, the Belgian Malinois and the less popular Belgian Laekenois, which all share a common foundation.

In most countries and breed clubs all four dogs are considered the same breed with different varieties in coat types.

All four dogs share a breed standard in all countries except for the AKC, which since 1959 recognizes them as separate breeds and does not recognize one of the four (the Laekenois), whereas the UKC, which is also a U.S. registry does recognize all four varieties as one breed.

Versatile and highly intelligent, all four varieties of the Belgian sheepdog excel at a variety of talents, including but not limited to, police work such as narcotics and bomb detection, protection and Schutzhund, search and rescue, also obedience, agility, tracking, herding, sled and cart pulling and as a guide for the blind and assistant to the disabled.

These high energy, extremely intelligent dogs need leadership, to be challenged, and well exercised daily and therefore are not for everyone, but can make an excellent family companion with the right owners.

Belgian Shepherds were also used as guard dogs and draught dogs. This breed were the 1st dogs to be used by the Belgian Police forces. Before World War II, international police dog trials became very popular in Europe and Belgian dogs often earned top honors at these Trials.

Today all four sheepdogs are popular in Belgium, with the Laekenois and Malinois topping the list & continues to be used in field competitions as working dogs.
• Very intelligent ~ considered brilliant.
• One of the top choices today for police work in numerous departments including scenting, tracking, scenting, protection.
• This breed also has 'herding' instincts in the DNA. Will chase bikers, joggers, tings that move.
• Not suited for apartments/condos.
• Shyness can be a problem in this breed.
• Require lots of mental and physical stimulation.
• Heavy shedders.
• Can get along well with other dogs & cats if raised with them, but will chase smaller animals they are not familiar with.
• Very people-oriented, and love being part of the family.
• Not recommended for inexperienced dog owners.