Rat Terrier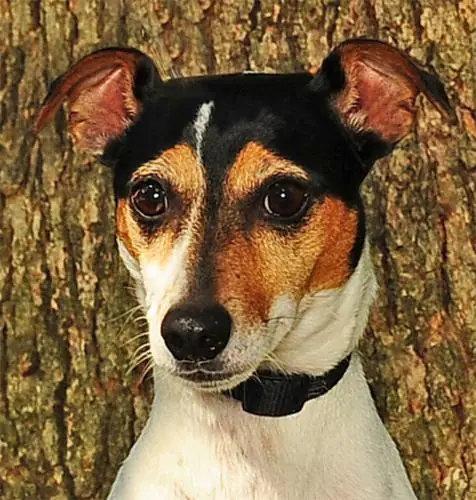 Breed Group

: TERRIER

Origin

: GREAT BRITAIN

Average Height

: 13" - 16"

Average Weight

: 13 - 17 lbs.

Life Span

: 13 - 18 years
Photo Courtesy info : New Rattitude Rat Terrier Rescue
Rat Terrier Rescue Organizations
Size

Energy

Intelligence

Ease of Training

Hypo-Allergenic

Shedding

Good with Kids

Good with Other Pets

Guard Dog
Named by the perceptive Teddy Roosevelt, the Rat Terrier was developed in Great Britain originally from the Smooth Fox Terrier and the Manchester Terrierin 1820. It was brought to the USA in the 1890s. At that time they were all their original color of black and tan. Life Magazine showed President Roosevelt with three black and tan Rat Terriers.

American breeders crossed them again with the Smooth Fox Terrier as well as the Beagle and Whippet. The Beagle increased bulk, trailing and hunting ability, along with the red color. The Whippet contributed the speed and agility and probably the blue and brindle colors.

The smallest variety was derived from the Smooth Fox Terrier and Chihuahua. The Rat Terrier proved to be one of the best in the rat-baiting pits. One Rat Terrier is reported to have killed over 2,501 rats in a span of only seven hours in a rat infested barn.

The Rat Terrier is a hard-working farm hand easily able to rid an infested barn of vermin ~ no problem.
• Intelligent, alert and loving.
• Inquisitive and lively.
• Affectionate, makes an excellent companion dog.
• Good with children.
• Friendly with strangers.
• Good watchdogs.
• quick, playful.
• Not yappy.
• Pure terriere ~ feisty!
• Eager to please.
• Train easily. Well mannered well all-round dog.
• Love to be with you all the time.
• Good swimmer.
• Do not do well left for long periods alone.
• Good farm dogs.
• Hardy hunters.
• Lots of energy, needs lots of exercise.
• Easy to groom.