Xoloitzcuinto (Mexican Hairless)
Xoloitzcuinto (Mexican Hairless)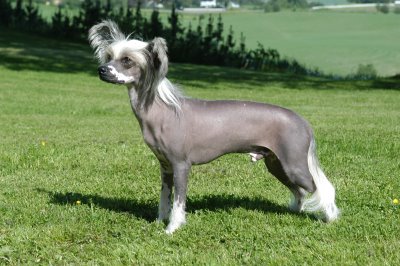 Breed Group

: Non-Sporting

Origin

: MEXICO

Average Height

: 9" - 30"

Average Weight

: 5 - 40 lbs.

Life Span

: 15 - 20 years
Size

Energy

Intelligence

Ease of Training

Hypo-Allergenic

Shedding

Good with Kids

Good with Other Pets

Guard Dog
The Xolo is native to Mexico. Archaeological evidence shows that the breed has existed in Mexico for more than 3,000 years.

Most likely, early forerunners of the Xolo originated as spontaneous hairless mutations of indigenous American dogs. Hairlessness may have offered a survival advantage in tropical regions. Indigenous peoples of Central and South America had Xolo dogs as home and hunting companions, and today they are still very popular companion dogs.

They are also the national dog of Mexico. Their value in ancient native cultures is evidenced by their frequent appearance in art and artifacts: for example, those produced by the Colima, Aztec and Toltec civilizations in Mexico.

Xolos were considered sacred dogs by the Aztecs (and also Toltecs, Maya and some other groups) because they believed the dogs were needed by their mastersÃ
Developed in 3 sizes: toy, miniature and standard sizes.
Known for their calm demeanor.
Very Intelligent, inquisitive, strong hunting and social instincts.
Escape artists. Love to climb and jump fences to chase.
Even though small, they have good guard dog abilities.
Bond strongly with their dog-wise owners.
Really only mature after the age of 2.
Do not do well in cold climates.
Hot weather climate breed.
Do better with other pets. Do not do well left alone.
Very healthy breed.